David's Curriculum Vitae joined English Heritage in 1979 working on buildings and Ancient Monuments in Lincolnshire and North Yorkshire. Work included conservation of stonework, brickwork, lime plastering, lime washing, repointing and supervising such works. Sites included Rievaulx Abbey, Helmsley Castle, Pickering Castle, Scarborough Castle and Thornton Abbey and St Peter's Church both in Lincolnshire.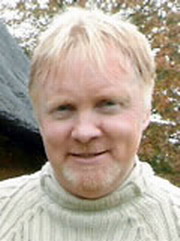 More David's curriculum vitae In 1990 David moved to London working for English Heritage's Architectural Conservation team and at their Conservation Skills Centre in Gosport. His main role there was training EH employees, Conservation Officers, Architects and home owners in "hands on" skills for repairing traditional buildings. Additionally he gave advice to Regional English Heritage Officers (Architects and Inspectors) on problems with repairing and conserving buildings. He was also involved with training people in Scotland and Northern Ireland.
In 1997 David joined British Waterways as a Heritage Officer training BW staff, Conservation Officers, contractors and home owners in the theoretical and practical skills and knowledge required to look after Listed Buildings. He lectured at the UCE and at the Limes Forum Annual Conference.
In 2004 David became a self employed conservation contractor and consultant. He has worked on various local projects working on cob, brick, plaster and stone.
In 2005 David became a full member of the IHBC (The Institute of Historic Building Conservation)
Additionally, Sleight Conservation has been involved in the following larger projects: