Practical training awareness raising is vital in understanding conservation principles and the use of materials. Whether it's for architects, tradesmen, supervisors or home owners "hands on" training enables techniques and practical skills to be demonstrated by an experienced person and tried out by the trainee.
If you are thinking of carrying out some Practical training awareness raising work on your own property then we could provide some initial advice on repair materials and tools then assist you with the basic hands on skills that will enable you to carry out the work yourself. This is could be repointing, basic brick repairs or plastering!
Other recent training courses provided by DSC: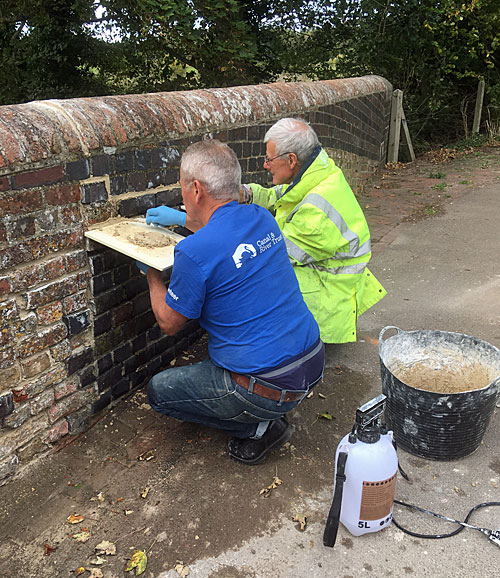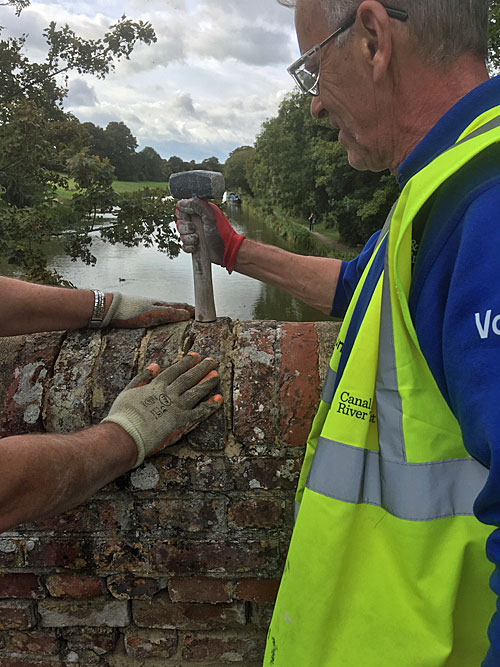 Hands on training was carried out on Vicarage Bridge Kintbury on the Kennett and Avon canal for ten volunteer trainees. The training consisted of repointing and brick repairs with lime mortar.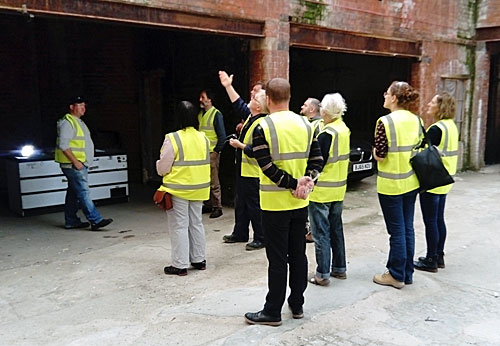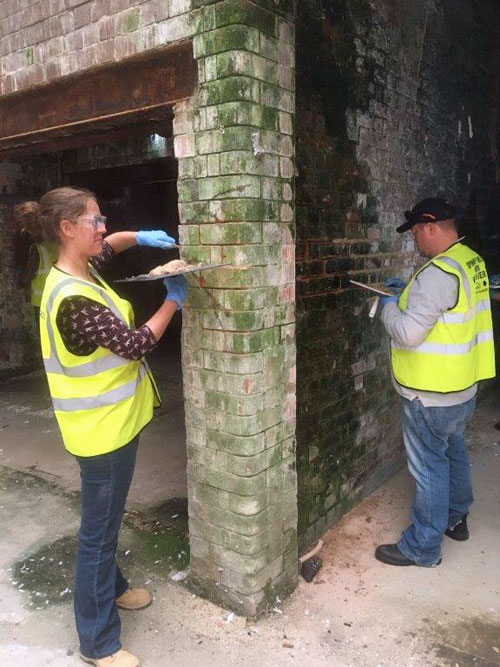 As part of Leicester's Greyfriars Townscape Heritage Initiative a one day practical training course was provided to ten delegates to gain an understanding of why we use lime in historic buildings, the different types and applications of lime and how to mix and apply lime mortar. The training focused on the practical elements of working with lime.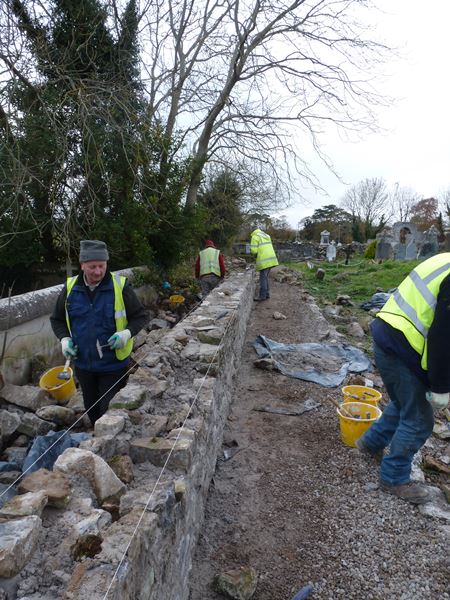 A hands on masonry and lime mortars training course was carried out in Ireland for West Limerick Resources. The course was based around reconstructing a 18thc graveyard boundary wall to the ruins of a historic church in Mungret near Limerick.
A further course was carried out in Mungret in July 2013 for seven more delegates. The trainees had to appreciate using lime mortars in summer conditions, wetting down where necessary and covering over the work to protect it fom the heat and winds to aid curing.
DSC carried out a two day training course for Erewash Borough Council in connection with the Long Eaton Townscape Heritage Initiative. The training was mainly a hands on course but also looked at the theoretical aspects of good conservation practice.
Trainees looked at lime, lime mortars and the good and bad aspects of repointing narrow brickwork joints. A small section of brickwork was repointed.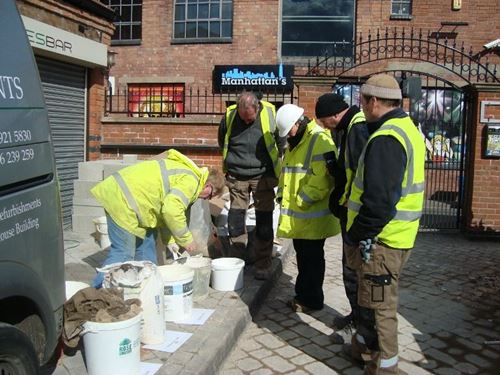 Students looking at the different types of lime.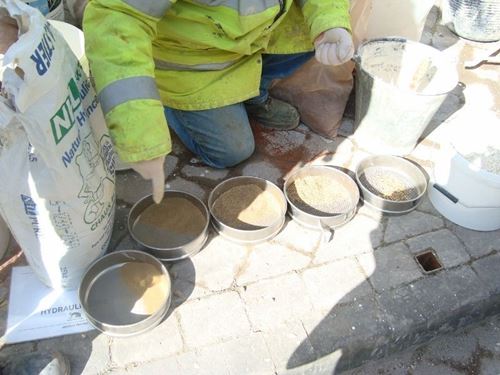 Students looking at the different types of lime.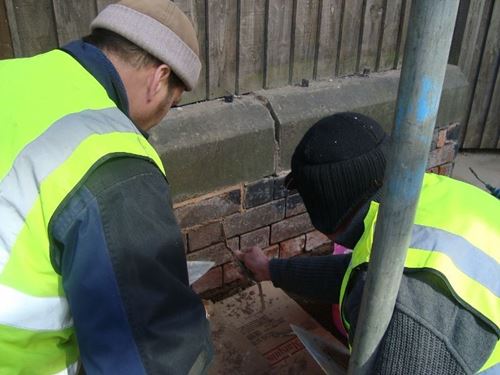 Repointing narrow brickwork joints "cleanly" using lime mortar and pointing keys.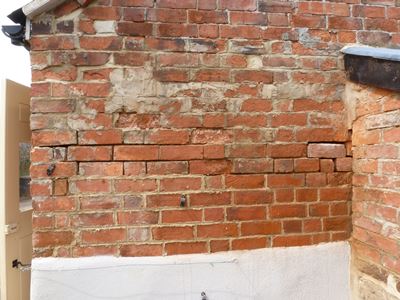 Mar '13 Homeowner Training A hands on training repointing course was carried out for a local client using lime mortar turning the wall.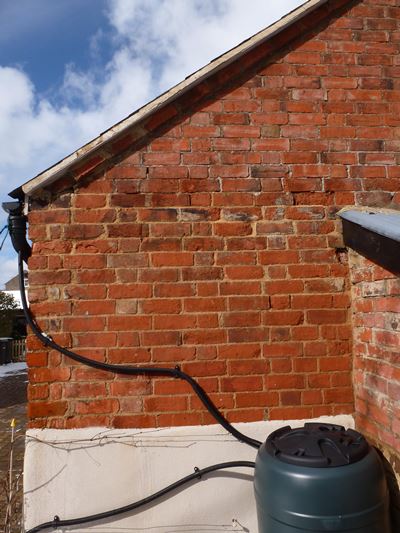 Into the repaired wall.
The home owner had little hands on experience but was able to carry on repointing her property to a good standard using the correct tools and materials.
(March 06) DSC runs Training courses at Stourport Basin
David Sleight Conservation has recently been involved with training craftsman and engineers in the use of lime mortars for laying and repointing.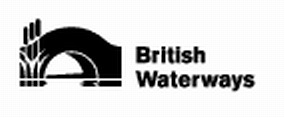 Five one-day courses were carried out at Stourport Basin for British Waterways to enable their contract staff to understand lime mortars when specifying and using the material. It is vital that not only "hands on" staff understand the use of lime, but staff who supervise and write specifications actually get to prepare and use the material.
Hands on experience is the best way to learn!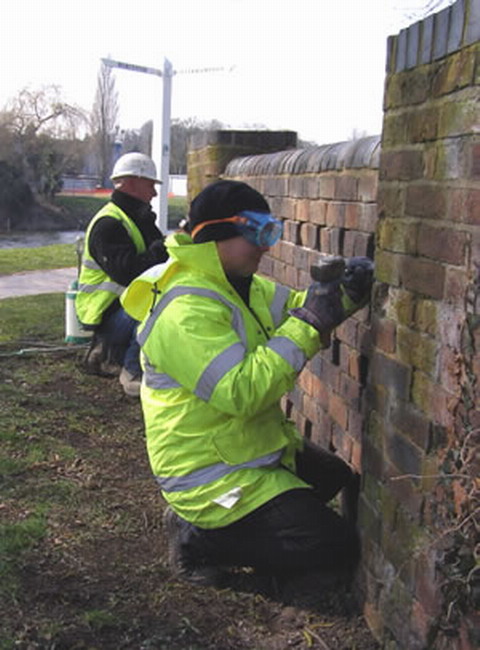 Course delegates carefully chop out prior to repointing.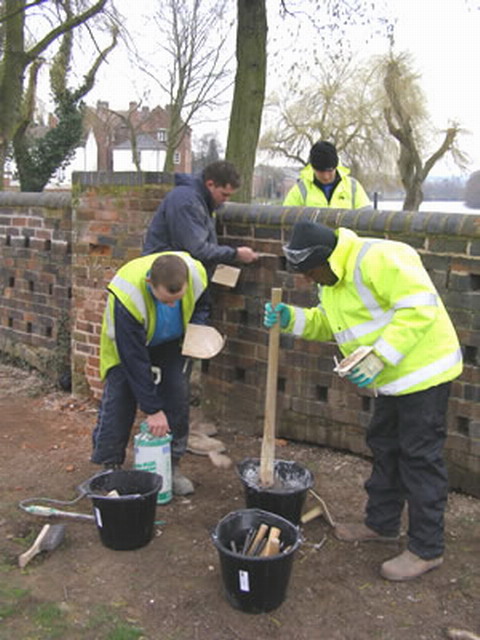 Mixing and beating the pointing mortar helps it to become more workable.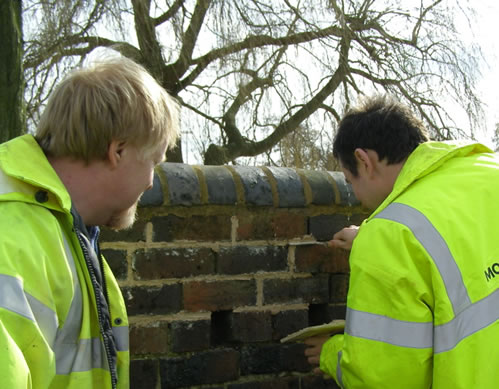 A careful eye is kept on all aspects of the work.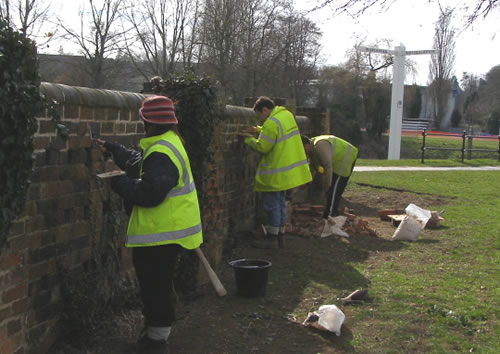 Trainees hard at work repointing.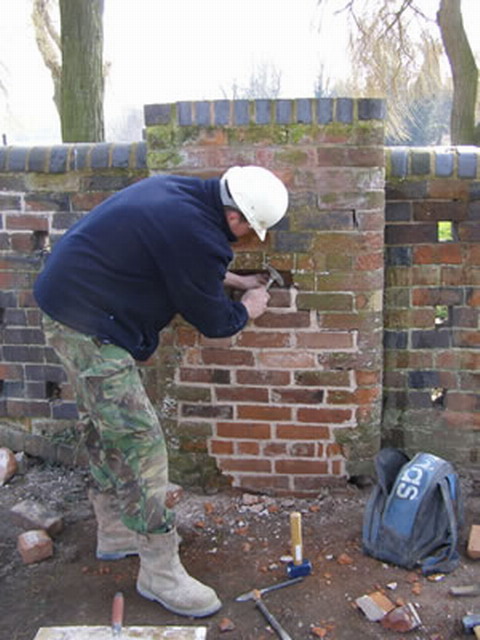 Part of the course was brick repairs using reclaimed bricks and lime mortar.